25,200.00 ฿ Exc. VAT
Brand : OPTIMA /
Capacity : 38 Ah /
Voltage : 12v /
Lead acid Solution /
2 years warranty
Description
DUAL USE BATTERIES
The YELLOWTOP high-performance AGM battery has everything you need. It's one of the few true dual-purpose automotive batteries available, and performs above expectations as a tractor battery, forklift battery, or for other applications. With premium cranking power and impressive cycling capability, this heavy duty battery is also perfect for modern accessory-loaded vehicles. The YELLOWTOP can repeatedly be brought back from deep power drains to full charge, so it can power plenty of electronics and still start you up time after time. Low internal resistance also provides more consistent power output and faster recharges.
Trucks with winches, vehicles with high-demand electronics and audio systems, commercial vehicles and heavy equipment can all rely on this battery to provide ultimate starting and deep-cycle power. It also functions well as a forklift battery, tractor battery, or for other applications.
---
Benefits
Deep-cycle and cranking power
Up to 3 times longer life
More than 15 times the vibration resistance
Spillproof, mountable in virtually any position
Maintenance-free
Faster recharging
Optimal starting power
300+ discharge/recharge cycles
Heavy duty battery that functions well as a tractor battery or forklift battery.

---
Once installed, you forget it. Whatever the conditions – moisture, heat, dust, exposure to extreme vibration or normal discharge – the Yello WTOP OPTIMA battery continues to provide power throughout the discharge cycle. Its ability to maintain high voltage during the discharge cycle allows a larger portion of the stored current than traditional batteries. All thanks to the SpiralCell OPTIMA ® technology, which combines the advantages of the starter battery with those of the deep cycle battery. The Yello WTOP battery performs many cycles of charge and discharge without significant loss of capacity and very low self-discharge rate in a wide range of battery for seasonal use.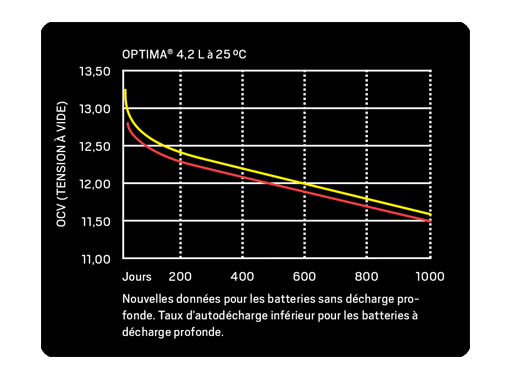 Long shelf life
OPTIMA batteries are ideal for vehicles that are used seasonally
because of their low self-discharge rate. All batteries that sit unused
for extended periods of time will begin to lose charge. But OPTIMA
batteries retain a significantly greater amount of power, enough to
start large vehicles like tractors, harvesters and recreational vehicles
even after a long winter of no use.
Red: Optima Redtop
Yellow: OptimaYellowTop
Grey: Traditional batter
---
More starting power
OPTIMA® batteries deliver a higher level of power to the starter in the critical first 10 seconds of the vehicle starting cycle.
Red: Optima Redtop
Yellow: OptimaYellowTop
Grey: Traditional battery